Updated – October 15, 2020
Branch 100 would like to extend a BIG Thank You and our appreciation to all the Volunteer Bartenders that have come forward in this time of need. Your support and commitment is helping our branch in controlling our fixed operating expenditures.
The Royal Canadian Legion Branch 100 Brighton would like to express our Thanks to the Municipality of Brighton for their support and participation in the Applefest gathering at the branch on the September 26. It was an excellent day and displayed the best of our community spirit during these Covid restrictions.
This September month's winner of a Free Annual Membership for 2022 is Lewis Broderick.. Congratulations from Branch 100… Renew your membership to win….
Ontario-Providing-over-Half-a-Billion-Dollars-to-Protect-Vulnerable-Seniors-against-Second-Wave-of-COVID

The History of the Royal Canadian Legion Abbreviated
Chapter 84 of the Statutes of Canada 1948, as amended by Chapter 86 of the Statutes of Canada 1951, by Chapter 72 of the Statutes of Canada 1959, by Chapter 83 of the Statutes of Canada 1961, by Chapter 112 of the Statutes of Canada 1975, by Chapter 47 of the Statutes of Canada 1977-78 and by the Statutes of Canada 1980-81.
May 17, 1927 – British Empire Service League (BESL) was formed and is the forerunner to the Royal Canadian Legion.
1948 – An act to incorporate the Royal Canadian Legion Chapter 84 of the Statutes of Canada 1948 this act received parliament approval and became law.
1959 – The name of the Canadian Legion of the British Empire Service League hereinafter called "The Legion", is changed to The Canadian Legion,
1963 – The name of The Canadian Legion, hereinafter called "The Canadian Legion" is changed to The Royal Canadian Legion, as it stands today.
A Big Thank You to Bucky Patterson for building and donating the new Blue Railing system for the office door entrance.
Saturday Meat Draw…
HARRY & LORNA Welcome you to come and win at our meat draw every Saturday from 4:00 – 5:00 pm… Our Legion gives away "REAL MEAT" …… Buy your Tickets ….. COME FOR THE FUN AND THE CAMARADERIE… EVERYONE WELCOME
Time to Renew your Membership ………….. your Annual Dues of $55.00 provide funding for Dominion Command, Ontario Command, and our Branch to help operate this Essential Veteran's Organization in our Community
Help the Legion Secure Federal Funding
Dominion President Thomas D. Irvine, CD, has sent a letter to all MPs requesting help in seeking accountability from the government to provide its promised financial assistance, in addition to an op-ed piece recently published in The Guardian. But after months of inaction from the federal government, the Legion is launching a letter-writing campaign to secure financial support for Branches impacted by the COVID-19 pandemic. Together, we can ensure the Government of Canada follows through on its promised assistance for the Legion. Please send our MP – Mr. Philip Lawrence your letter of support for our legion that was emailed to you. Thank you
To the Youth in our Community. Every year the Royal Canadian Legion provides 2 competitions. The first one being the Poster, Poems and Essay contest for Remembrance Day. The second one is the Public Speaking in February. We hope that students will again wish to participate in these events. Materials will be going out to the schools in our area. However, with these uncertain times the format may have to change and students may wish to work from home, (Last year one of our students came in first with their colour poster and had their work displayed in the government buildings in Ottawa).. In this case they may come to Branch 100, 25 Park St. to get the information they would need to participate, which would include their registration form and rules of the contest. Phoning 613 – 475-1044 would let them know when they could come and pick up their package of information. Hope that you would consider participating.
ONTARIO VETERAN LICENCE PLATES….
Veterans-License-Plate-app

To order Veterans' licence plates "Do not go to the Ontario Service Centre"; "You must order them thru Dominion Command". Any interested party, Click on Button, fill it out, print the form and mail it to Dominion Command the address is at the top right side of form with your $5.00 payment. They will confirm your status and mail the authorized form back to you and then take it to the Ontario Service Centre for receipt of your Veteran Plates
---
If you are a veteran or active Canadian Armed Forces member
Starting January 1, 2019, veterans and active members of the Canadian Armed Forces who reside in Ontario are able to enjoy free fishing across the province as a token of recognition for their service. In place of an Outdoors Card and recreational fishing licence, veterans and active members will be required to possess and carry one of the following pieces of identification to legally fish in Ontario:
Canadian Forces Identification Card (NDI 20);

Record of Service Card (NDI 75); or

Canadian Armed Forces Veteran's Service Card (NDI 75).
In accordance with other deemed licences, veterans and active members of the Canadian Armed Forces will need to follow the seasons, quotas and limits associated with a sport fishing licence.
For more information on this initiative, please contact the Natural Resources Information and Support Centre at 1-800-387-7011.
---
To all Veterans, Military & RCMP.. Read Below…. (this is a good thing)…..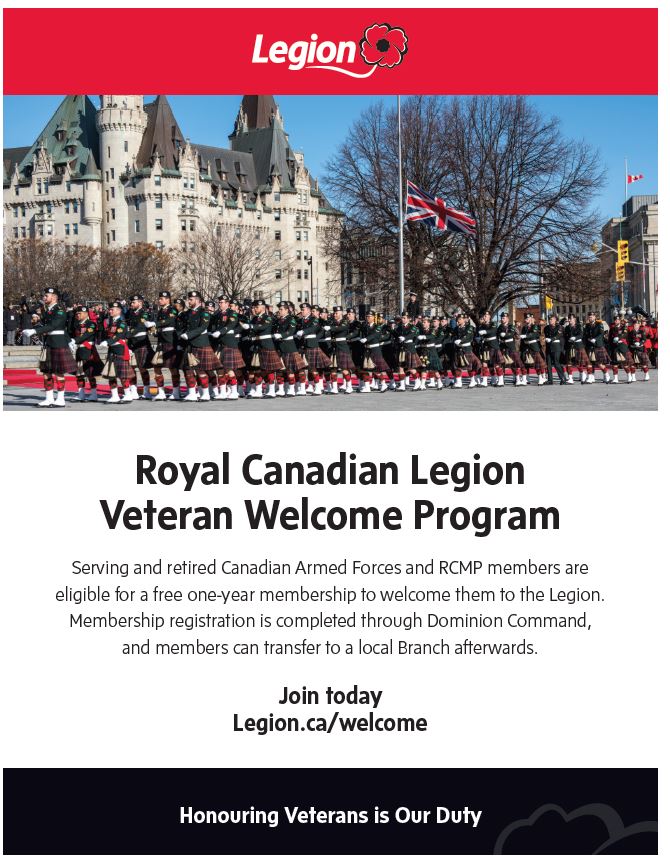 All Serving Military or Retired Veterans and RCMP are welcome to join "Free" for a year.. Explore the benefits, services & the camaraderie the Legion has to offer… at "No Cost".. "Click On" Button Below to Start…
---
Branch Members are more than Welcome to put their business cards on the Community bulletin board in the legion for everyone to see.
COME IN and CHECK OUT OUR BOARD AND PLEASE SUPPORT OUR SUPPORTERS..
---
---