Updated – July 18, 2021
Saturday Meat Draw…
Lorna Welcomes you to come and win at our meat draw every Saturday from 4:00 – 5:00 pm… Our Legion gives away "REAL MEAT" …… Buy your Tickets ….. COME FOR THE FUN AND THE CAMARADERIE… EVERYONE WELCOME
July 2021 RCL Branch 100 update
As we move into Stage 3 of the province's reopening plan, we expect to start running our summer meat draw on the 24th of July. We will be limited to a 25% capacity for seating when we open which means no more than 54 people allowed in. All of the Covid protocols will be in place, the same as they were before lockdown. We will not be able to run any of our leagues but it is summer so that should not affect us. Please stay tuned to our website RCL100.ca and the building Park Street sign for updates.
In the meantime President Chalmers and myself would like to thank the volunteers that maintained and improved the building during these frustrating times. The work that they have done has given the Branch a fresh clean look and a revamped kitchen.
Rose Massey, Shirley Bach, Sue Halcrow, Jim Sherwood, Bill Barber, Don Halcrow, Roy Flieger, Duane Bach, Mike Skubicky, Glenn Irving, Michael French, Jeramy Sparks, Kathie Woodcox, Sandra Sparks-Brant and Jim Melvin are all to be commended for their time and efforts in support of the Legion. Without their dedicated support nothing would have been accomplished.
I have heard that some people are asking where the funding came from to make these improvements. As I indicated in my last email, Duane Bach was successful in obtaining a second New Horizons Grant in the amount of $25,000. When he applied for the grant, he had to clearly define the purpose and usage of the funds. With the government's approval the funds had to be used for that specific purpose with a report back on progress and results. These upgrades among other things have brought the kitchen up to code for current commercial kitchens.
The following items were purchased under the grant and are installed or will be in the weeks ahead. The old equipment was repurposed, sold or sent to scrap. The costs below do not include HST as the Legion, as a charitable organization recoups those funds:
Grant received $ 25,000.00
Scrap metal and sale of old branch items that were replaced $ 1,420.00
Total funds available $ 26,420.00
Kitchen Items purchase
Garland Range
SSM Solid State Convection Oven
Blodgett Oven Toaster
Microwave
Coffee Pots
3 Catering Carts
Stainless Steel Work Tables
Counter Top Display Warmers
Cutting boards
Air circulation fan
Total $ 14,686.75
Lorex 16 Channel 8 Cameras Video Security System $ 1,402.98
Global Walk behind Floor Cleaning System $ 3,674.74
Storage Shed 15′ x 8′ $ 2,699.99
Gas and Electrical Install $ 1,750.00
Miscellaneous Items (paint and supplies, motion lights, plumbing,
blind, 4 drawer cabinet, floor cleaning supplies) $ 949.43
Total Expenses to Date $ 25,163.89
The extra funds ($1256.11) will be used to cover any more unforeseen expenses for the upgrades. All receipts have been submitted and verified by our bookkeeper.
All of the slugging, painting and grunt work was done by our volunteers.
See you on the 24th, stay safe, get vaccinated and come back to enjoy your friends and comrades.
Glenn Irving
1St Vice President
For President Astrida Chalmers
Operation Leave the Streets Behind
Royal Canadian Legion
Ontario Command
Operation Leave the Streets Behind
Homeless Veterans Program
The following is an overview of the Royal Canadian Legion, Ontario Command Homeless Veterans program, operation Leave the Streets Behind.
The program was initiated in November 2009, by Ontario Command and the template created has since been developed across Canada, by Veterans Affairs and other Provincial Commands. The objective of course is to end Homelessness among our Veteran population. Through the generosity of our Legion Branches and Ladies Auxiliary, throughout the Province, money has been raised through various functions to support the Homeless Veterans program. To date 2.7 million dollars has been disbursed from the Ontario Command Homeless Veterans Fund and over $ 100,000.00 from our Ladies Auxiliary. There has been no financial support from any level of Government. More than 927 Homeless Veterans have been identified in 176 towns of which 93 are Female Veterans, since the beginning of the program. (Note: numbers given are as of May, 2021 and change monthly)
When a Homeless Veteran is identified we have the proper form completed (Request for Assistance and Release form) and once completed, it is sent to Veterans Affairs to verify the applicant has served in the Canadian Military. This form allows the Legion and VAC to access information to better understand their present situation. Once complete, the Legion will determine what the immediate needs of the Veteran are and take the appropriate action to meet those needs such as food, clothing or shelter.
We offer gift cards from Walmart, Tim Horton's or a local food store, to fulfill immediate needs and most can be provided the same day or within 24 hours. We use our network of the 395 Legion Branches in Ontario to meet the needs. For example, from our office in Aurora we can reach out to a Legion branch in various communities to assist and provide the gift cards for food, or clothing thus meeting the immediate need of the Homeless Veteran.
The Royal Canadian Legion, Ontario Command has also partnered with George Brown College in Toronto, Algonquin College in Ottawa and St. Joseph's Health Care Centre in London creating Dental programs in the three locations for Homeless Veterans. All Dental work is paid for by Ontario Command.
The Homeless Veterans program has been a great success assisting more than 662 Homeless Veterans with rent payments and finding new apartments, providing dental work, clothing, and assisting with education requirements. A Veterans Hotline has been established (437-228-4747) to provide emergency service to our Veterans.
For further information please visit our website at www.on.legion.ca, where you will find additional information, or contact our office at 1-905-841-7999 or toll free 1-888-207-0939.
04/05/2021
Second World War Tribute
The Second World War Tribute program honours the sacrifices and achievements of Canada's Second World War Veterans. Any living Canadian or Newfoundland Veteran of the Second World War who served with the Canadian Forces, the Canadian or British Merchant Navy or any Allied force is eligible to receive the tribute lapel pin and certificate. The Second World War Tribute was introduced in September 2014 to mark the 75th anniversary of the beginning of the Second World War.
If you're interested receiving this tribute for yourself, or for a living family member or friend who served during the Second World War, you can:
Fill out the online form below
Download, print and mail or email your form to the address on the form
If you are experiencing issues, call us at 1-866-522-2122 and we will assist you
The tribute will be sent directly to the Veteran unless otherwise requested in the comments section on the form.
Time to Renew your Membership ………….. your Annual Dues of $55.00 provide funding for Dominion Command, Ontario Command, and our Branch to help operate this Essential Veteran's Organization in our Community
The History of the Royal Canadian Legion Abbreviated
Chapter 84 of the Statutes of Canada 1948, as amended by Chapter 86 of the Statutes of Canada 1951, by Chapter 72 of the Statutes of Canada 1959, by Chapter 83 of the Statutes of Canada 1961, by Chapter 112 of the Statutes of Canada 1975, by Chapter 47 of the Statutes of Canada 1977-78 and by the Statutes of Canada 1980-81.
May 17, 1927 – British Empire Service League (BESL) was formed and is the forerunner to the Royal Canadian Legion.
1948 – An act to incorporate the Royal Canadian Legion Chapter 84 of the Statutes of Canada 1948 this act received parliament approval and became law.
1959 – The name of the Canadian Legion of the British Empire Service League hereinafter called "The Legion", is changed to The Canadian Legion,
1963 – The name of The Canadian Legion, hereinafter called "The Canadian Legion" is changed to The Royal Canadian Legion, as it stands today.
ONTARIO VETERAN LICENCE PLATES….
Veterans-License-Plate-app

To order Veterans' licence plates "Do not go to the Ontario Service Centre"; "You must order them thru Dominion Command". Any interested party, Click on Button, fill it out, print the form and mail it to Dominion Command the address is at the top right side of form with your $5.00 payment. They will confirm your status and mail the authorized form back to you and then take it to the Ontario Service Centre for receipt of your Veteran Plates
---
If you are a veteran or active Canadian Armed Forces member
Starting January 1, 2019, veterans and active members of the Canadian Armed Forces who reside in Ontario are able to enjoy free fishing across the province as a token of recognition for their service. In place of an Outdoors Card and recreational fishing licence, veterans and active members will be required to possess and carry one of the following pieces of identification to legally fish in Ontario:
Canadian Forces Identification Card (NDI 20);

Record of Service Card (NDI 75); or

Canadian Armed Forces Veteran's Service Card (NDI 75).
In accordance with other deemed licences, veterans and active members of the Canadian Armed Forces will need to follow the seasons, quotas and limits associated with a sport fishing licence.
For more information on this initiative, please contact the Natural Resources Information and Support Centre at 1-800-387-7011.
---
To all Veterans, Military & RCMP.. Read Below…. (this is a good thing)…..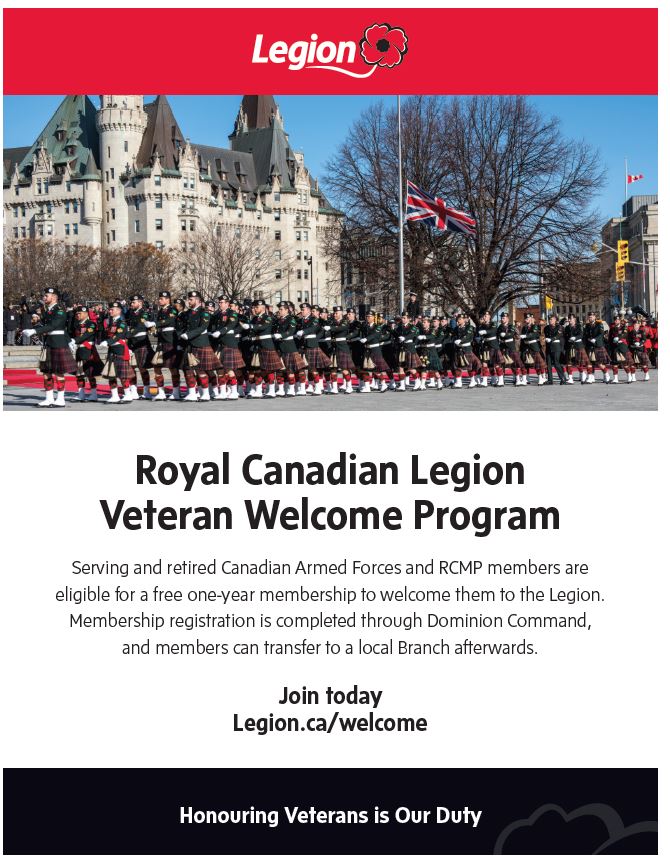 All Serving Military or Retired Veterans and RCMP are welcome to join "Free" for a year.. Explore the benefits, services & the camaraderie the Legion has to offer… at "No Cost".. "Click On" Button Below to Start…
---
Branch Members are more than Welcome to put their business cards on the Community bulletin board in the legion for everyone to see.
COME IN and CHECK OUT OUR BOARD AND PLEASE SUPPORT OUR SUPPORTERS..
---
---