Updated – October 16, 2021
Branch President, Astrida Chalmers and Poppy Chairman Bill Barber present Mayor Brian Ostrander the first poppy to kick off the 2021 Poppy Campaign in our area which starts Friday October 29th. Please support the Poppy Fund which supports all veterans.
Branch 100 President Astrida Chalmers presented Mayor Ostrander and Council a Certificate of Appreciation to the Municipality of Brighton for their excellent support to our branch.
A BIG THANK YOU to Branch 100 Men's Billards / Pool League.. for donating $500.00 to the branch…. these boys know how to rack'em up…
There have been several inquiries into whether Branch 100 will be starting their Catch the Ace lottery again. Covid has kept us from running it, but now that we are slowly returning to normal we can start again. The hold up is, we still need a minimum of 4 volunteers to conduct the draws. If anyone is interested please contact Michael French.
Your executive needs your help to keep the Branch going, please volunteer.
2021-Poppy-Campaign-Report-Public-Notice

Royal Canadian Sea Cadet Corps needs your Help
RCSCC-79-TRENT

Branch Poppy Chairman Bill Barber makes the first sale of the Remembrance Day yard signs to Comrade Ted Baker… buy yours at the Branch…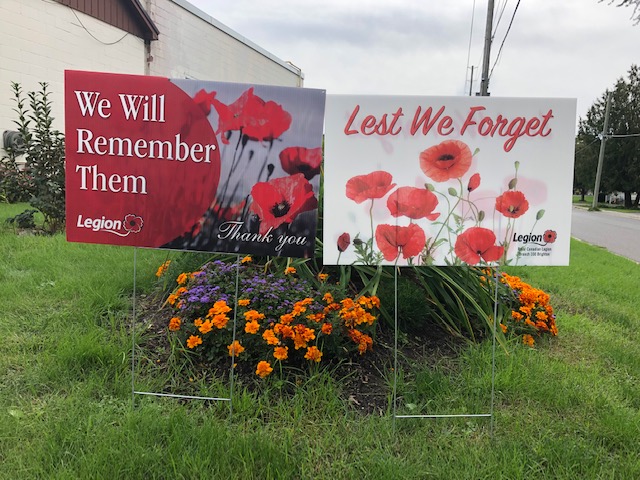 BUY YOUR SIGNS AT THE BRANCH $20.00 EACH PROCEEDS GO TO THE BRANCH
Thursday Euchre Group member Ruth Tevendale presents Branch President Astrida Chalmers $700.00….. Thank you for this Generous Donation
Margaret Baxter from the Old Timers Darts presented President Astrida Chalmers a cheque for $500.00 Thank You for this generous gift.
Brighton Seniors – Shirley French presents a $700.00 cheque to President Astrida Chalmers Branch 100 President… Greatly Appreciated
A reminder that Membership renewals will begin in September. There are 3 early bird prizes for Sept, Oct and Nov. Your renewal can be done on line at Legion.ca, or by mail to Royal Canadian Legion Brighton P.O. Box 458, Brighton, Ontario K0K 1H0 or in person on Thurs, Friday and Sat. afternoons.
Time to Renew your Membership your Annual Dues of $55.00 provide funding for Dominion Command, Ontario Command, and our Branch to help operate this Essential Veteran's Organization in our Community
Saturday Meat Draw…
Lorna and Sue… Welcome you to come and win at our meat draw every Saturday from 4:00 – 5:00 pm… Our Legion gives away "REAL MEAT" …… Buy your Tickets ….. COME FOR THE FUN AND THE CAMARADERIE… EVERYONE WELCOME
Operation Leave the Streets Behind
Royal Canadian Legion
Ontario Command
Operation Leave the Streets Behind
Homeless Veterans Program
The following is an overview of the Royal Canadian Legion, Ontario Command Homeless Veterans program, operation Leave the Streets Behind.
The program was initiated in November 2009, by Ontario Command and the template created has since been developed across Canada, by Veterans Affairs and other Provincial Commands. The objective of course is to end Homelessness among our Veteran population. Through the generosity of our Legion Branches and Ladies Auxiliary, throughout the Province, money has been raised through various functions to support the Homeless Veterans program. To date 2.7 million dollars has been disbursed from the Ontario Command Homeless Veterans Fund and over $ 100,000.00 from our Ladies Auxiliary. There has been no financial support from any level of Government. More than 927 Homeless Veterans have been identified in 176 towns of which 93 are Female Veterans, since the beginning of the program. (Note: numbers given are as of May, 2021 and change monthly)
When a Homeless Veteran is identified we have the proper form completed (Request for Assistance and Release form) and once completed, it is sent to Veterans Affairs to verify the applicant has served in the Canadian Military. This form allows the Legion and VAC to access information to better understand their present situation. Once complete, the Legion will determine what the immediate needs of the Veteran are and take the appropriate action to meet those needs such as food, clothing or shelter.
We offer gift cards from Walmart, Tim Horton's or a local food store, to fulfill immediate needs and most can be provided the same day or within 24 hours. We use our network of the 395 Legion Branches in Ontario to meet the needs. For example, from our office in Aurora we can reach out to a Legion branch in various communities to assist and provide the gift cards for food, or clothing thus meeting the immediate need of the Homeless Veteran.
The Royal Canadian Legion, Ontario Command has also partnered with George Brown College in Toronto, Algonquin College in Ottawa and St. Joseph's Health Care Centre in London creating Dental programs in the three locations for Homeless Veterans. All Dental work is paid for by Ontario Command.
The Homeless Veterans program has been a great success assisting more than 662 Homeless Veterans with rent payments and finding new apartments, providing dental work, clothing, and assisting with education requirements. A Veterans Hotline has been established (437-228-4747) to provide emergency service to our Veterans.
For further information please visit our website at www.on.legion.ca, where you will find additional information, or contact our office at 1-905-841-7999 or toll free 1-888-207-0939.
04/05/2021
Second World War Tribute
The Second World War Tribute program honours the sacrifices and achievements of Canada's Second World War Veterans. Any living Canadian or Newfoundland Veteran of the Second World War who served with the Canadian Forces, the Canadian or British Merchant Navy or any Allied force is eligible to receive the tribute lapel pin and certificate. The Second World War Tribute was introduced in September 2014 to mark the 75th anniversary of the beginning of the Second World War.
If you're interested receiving this tribute for yourself, or for a living family member or friend who served during the Second World War, you can:
Fill out the online form below
Download, print and mail or email your form to the address on the form
If you are experiencing issues, call us at 1-866-522-2122 and we will assist you
The tribute will be sent directly to the Veteran unless otherwise requested in the comments section on the form.
The History of the Royal Canadian Legion Abbreviated
Chapter 84 of the Statutes of Canada 1948, as amended by Chapter 86 of the Statutes of Canada 1951, by Chapter 72 of the Statutes of Canada 1959, by Chapter 83 of the Statutes of Canada 1961, by Chapter 112 of the Statutes of Canada 1975, by Chapter 47 of the Statutes of Canada 1977-78 and by the Statutes of Canada 1980-81.
May 17, 1927 – British Empire Service League (BESL) was formed and is the forerunner to the Royal Canadian Legion.
1948 – An act to incorporate the Royal Canadian Legion Chapter 84 of the Statutes of Canada 1948 this act received parliament approval and became law.
1959 – The name of the Canadian Legion of the British Empire Service League hereinafter called "The Legion", is changed to The Canadian Legion,
1963 – The name of The Canadian Legion, hereinafter called "The Canadian Legion" is changed to The Royal Canadian Legion, as it stands today.
ONTARIO VETERAN LICENCE PLATES….
Veterans-License-Plate-app

To order Veterans' licence plates "Do not go to the Ontario Service Centre"; "You must order them thru Dominion Command". Any interested party, Click on Button, fill it out, print the form and mail it to Dominion Command the address is at the top right side of form with your $5.00 payment. They will confirm your status and mail the authorized form back to you and then take it to the Ontario Service Centre for receipt of your Veteran Plates
---
If you are a veteran or active Canadian Armed Forces member
Starting January 1, 2019, veterans and active members of the Canadian Armed Forces who reside in Ontario are able to enjoy free fishing across the province as a token of recognition for their service. In place of an Outdoors Card and recreational fishing licence, veterans and active members will be required to possess and carry one of the following pieces of identification to legally fish in Ontario:
Canadian Forces Identification Card (NDI 20);

Record of Service Card (NDI 75); or

Canadian Armed Forces Veteran's Service Card (NDI 75).
In accordance with other deemed licences, veterans and active members of the Canadian Armed Forces will need to follow the seasons, quotas and limits associated with a sport fishing licence.
For more information on this initiative, please contact the Natural Resources Information and Support Centre at 1-800-387-7011.
---
To all Veterans, Military & RCMP.. Read Below…. (this is a good thing)…..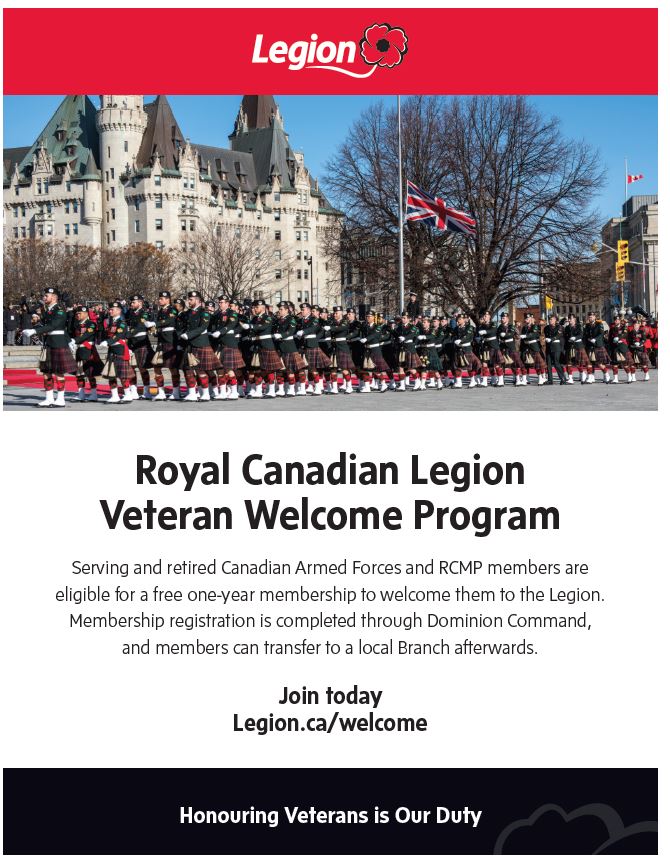 All Serving Military or Retired Veterans and RCMP are welcome to join "Free" for a year.. Explore the benefits, services & the camaraderie the Legion has to offer… at "No Cost".. "Click On" Button Below to Start…
---
Branch Members are more than Welcome to put their business cards on the Community bulletin board in the legion for everyone to see.
COME IN and CHECK OUT OUR BOARD AND PLEASE SUPPORT OUR SUPPORTERS..
---
---