Updated – March 14, 2021
A BIG Thank You to the Line Dancers for their Generous Donation of $ 300.00 to the branch, Much Appreciated… Dance on !!!
Notice to Members – Please remove your darts and or accessories from the storage cabinet in the Downstairs Coat/Library room as it is being removed. Thank you for your support
Ontario Extended Seniors Assistance – Click on Button below
Interesting take on pandemic response from a military perspective…. click on button below
Good Day Comrades…
Currently we are contacting members who have not renewed for 2021, in the hope that you will consider renewing your membership even though our Branch has limited hours. As with all organizations during this pandemic, it has been difficult to remain in close contact with members, but your executive continues to work hard to keep our bills paid and our doors open. We would be Thankful for your support during these difficult times and hope to renew friendships as soon as it is safe to do so. If you have already renewed Thank you for your support.
You can mail a $55.00 cheque to the branch at Royal Canadian Legion Box 458, Brighton ON K0K 1H0 or stop in at branch daily from 9:00 – 11:30 am or you can renew on-line at Legion.ca. We have over 450 members on file and only just over half have renewed, Please consider renewing so we can take our branch into the future and your executive is planning for future upgrades such as new kitchen equipment, outdoor patio and other improvements. We truly need your support. Thank you Comrades for your support.
Your Executive
Royal Canadian Legion Brighton Branch #100
Web Site – rcl100.ca
613-475-1044
Time to Renew your Membership ………….. your Annual Dues of $55.00 provide funding for Dominion Command, Ontario Command, and our Branch to help operate this Essential Veteran's Organization in our Community
Winners of Early Bird Free Membership for next year are – Sept – Lewis Broderick , Oct – Philip Eden Nov – Kevin Benson
Second World War Tribute
The Second World War Tribute program honours the sacrifices and achievements of Canada's Second World War Veterans. Any living Canadian or Newfoundland Veteran of the Second World War who served with the Canadian Forces, the Canadian or British Merchant Navy or any Allied force is eligible to receive the tribute lapel pin and certificate. The Second World War Tribute was introduced in September 2014 to mark the 75th anniversary of the beginning of the Second World War.
If you're interested receiving this tribute for yourself, or for a living family member or friend who served during the Second World War, you can:
Fill out the online form below
Download, print and mail or email your form to the address on the form
If you are experiencing issues, call us at 1-866-522-2122 and we will assist you
The tribute will be sent directly to the Veteran unless otherwise requested in the comments section on the form.
Saturday Meat Draw…
HARRY & LORNA Welcome you to come and win at our meat draw every Saturday from 4:00 – 5:00 pm… Our Legion gives away "REAL MEAT" …… Buy your Tickets ….. COME FOR THE FUN AND THE CAMARADERIE… EVERYONE WELCOME
The History of the Royal Canadian Legion Abbreviated
Chapter 84 of the Statutes of Canada 1948, as amended by Chapter 86 of the Statutes of Canada 1951, by Chapter 72 of the Statutes of Canada 1959, by Chapter 83 of the Statutes of Canada 1961, by Chapter 112 of the Statutes of Canada 1975, by Chapter 47 of the Statutes of Canada 1977-78 and by the Statutes of Canada 1980-81.
May 17, 1927 – British Empire Service League (BESL) was formed and is the forerunner to the Royal Canadian Legion.
1948 – An act to incorporate the Royal Canadian Legion Chapter 84 of the Statutes of Canada 1948 this act received parliament approval and became law.
1959 – The name of the Canadian Legion of the British Empire Service League hereinafter called "The Legion", is changed to The Canadian Legion,
1963 – The name of The Canadian Legion, hereinafter called "The Canadian Legion" is changed to The Royal Canadian Legion, as it stands today.
ONTARIO VETERAN LICENCE PLATES….
Veterans-License-Plate-app

To order Veterans' licence plates "Do not go to the Ontario Service Centre"; "You must order them thru Dominion Command". Any interested party, Click on Button, fill it out, print the form and mail it to Dominion Command the address is at the top right side of form with your $5.00 payment. They will confirm your status and mail the authorized form back to you and then take it to the Ontario Service Centre for receipt of your Veteran Plates
---
If you are a veteran or active Canadian Armed Forces member
Starting January 1, 2019, veterans and active members of the Canadian Armed Forces who reside in Ontario are able to enjoy free fishing across the province as a token of recognition for their service. In place of an Outdoors Card and recreational fishing licence, veterans and active members will be required to possess and carry one of the following pieces of identification to legally fish in Ontario:
Canadian Forces Identification Card (NDI 20);

Record of Service Card (NDI 75); or

Canadian Armed Forces Veteran's Service Card (NDI 75).
In accordance with other deemed licences, veterans and active members of the Canadian Armed Forces will need to follow the seasons, quotas and limits associated with a sport fishing licence.
For more information on this initiative, please contact the Natural Resources Information and Support Centre at 1-800-387-7011.
---
To all Veterans, Military & RCMP.. Read Below…. (this is a good thing)…..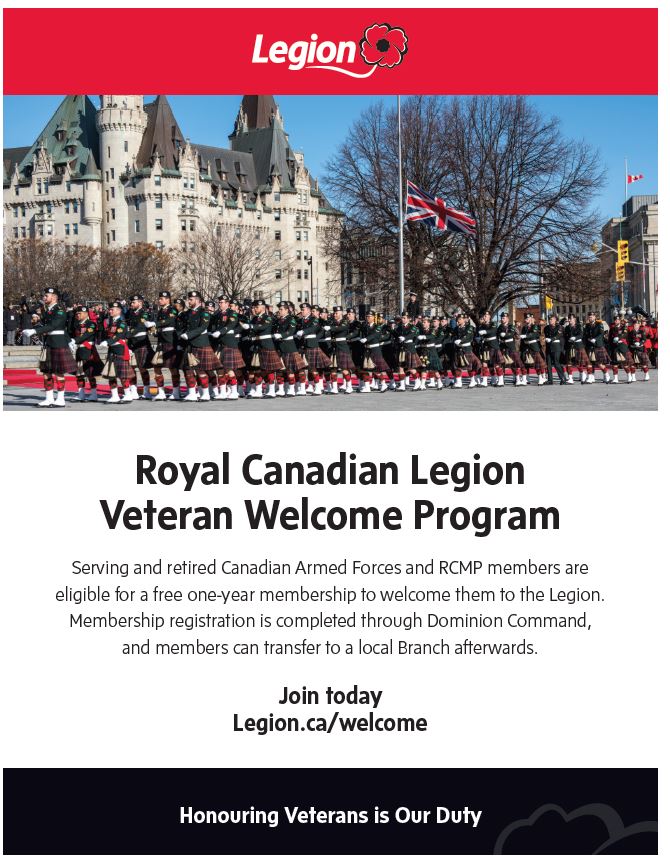 All Serving Military or Retired Veterans and RCMP are welcome to join "Free" for a year.. Explore the benefits, services & the camaraderie the Legion has to offer… at "No Cost".. "Click On" Button Below to Start…
---
Branch Members are more than Welcome to put their business cards on the Community bulletin board in the legion for everyone to see.
COME IN and CHECK OUT OUR BOARD AND PLEASE SUPPORT OUR SUPPORTERS..
---
---