---
Thursday Night Euchre Group operated by Lorrie and Bill Barber donated $700.00 to the Brighton Legion
---
Click on "Caddie School For Soldier's" tab for new information
---
President Astrida Chalmers and 1st Vice Glenn Irving presented a cheque for $2,000.00 to the Brighton food bank.
---
With the 70th Anniversary of the Korean Armistice about to be celebrated this July, the Canadian Military Engineers are renewing efforts to locate our Royal Canadian Engineer veterans of the Korean War.
Ken Holmes
LCol Ken Holmes, CD (Ret'd)
Canadian Military Engineer Historian
Vice President, History and Heritage
---
HIGHWAYS OF HEROS 401 ANNUAL CLEANUP
Royal Canadian Legion Brighton Branch 100 Members and CannaConnect Organizers "Bruce" and "Klode" with participants picked up trash at exit's 509 and 497 to ensure our designated areas are presentable for our Highway of Hero's.
---
---
CHECK-OUT "UPCOMING EVENTS TAB" FOR THE LATEST BRANCH ACTIVITIES…
The free first year of Legion membership program has expanded eligibility to include family of Veterans
How to apply to the Veteran Family Welcome Program and the Veteran Welcome Program
Eligible Family Applicants can fill out an application form online: Click on the Links below
Veteran Family Welcome Program – To Print your Own… Click Below
Veteran Welcome Program.. To Print your own… Click Below
The History of the Royal Canadian Legion Abbreviated
Chapter 84 of the Statutes of Canada 1948, as amended by Chapter 86 of the Statutes of Canada 1951, by Chapter 72 of the Statutes of Canada 1959, by Chapter 83 of the Statutes of Canada 1961, by Chapter 112 of the Statutes of Canada 1975, by Chapter 47 of the Statutes of Canada 1977-78 and by the Statutes of Canada 1980-81.
May 17, 1927 – British Empire Service League (BESL) was formed and is the forerunner to the Royal Canadian Legion.
1948 – An act to incorporate the Royal Canadian Legion Chapter 84 of the Statutes of Canada 1948 this act received parliament approval and became law.
1959 – The name of the Canadian Legion of the British Empire Service League hereinafter called "The Legion", is changed to The Canadian Legion,
1963 – The name of The Canadian Legion, hereinafter called "The Canadian Legion" is changed to The Royal Canadian Legion, as it stands today.
ONTARIO VETERAN LICENCE PLATES….
To order Veterans' licence plates "Do not go to the Ontario Service Centre"; "You must order them thru Dominion Command". Any interested party, Click on Button, fill it out, print the form and mail it to Dominion Command the address is at the top right side of form with your $5.00 payment. They will confirm your status and mail the authorized form back to you and then take it to the Ontario Service Centre for receipt of your Veteran Plates
---
If you are a veteran or active Canadian Armed Forces member
Starting January 1, 2019, veterans and active members of the Canadian Armed Forces who reside in Ontario are able to enjoy free fishing across the province as a token of recognition for their service. In place of an Outdoors Card and recreational fishing licence, veterans and active members will be required to possess and carry one of the following pieces of identification to legally fish in Ontario:
Canadian Forces Identification Card (NDI 20);

Record of Service Card (NDI 75); or

Canadian Armed Forces Veteran's Service Card (NDI 75).
In accordance with other deemed licences, veterans and active members of the Canadian Armed Forces will need to follow the seasons, quotas and limits associated with a sport fishing licence.
For more information on this initiative, please contact the Natural Resources Information and Support Centre at 1-800-387-7011.
---
To all Veterans, Military & RCMP.. Read Below…. (this is a good thing)…..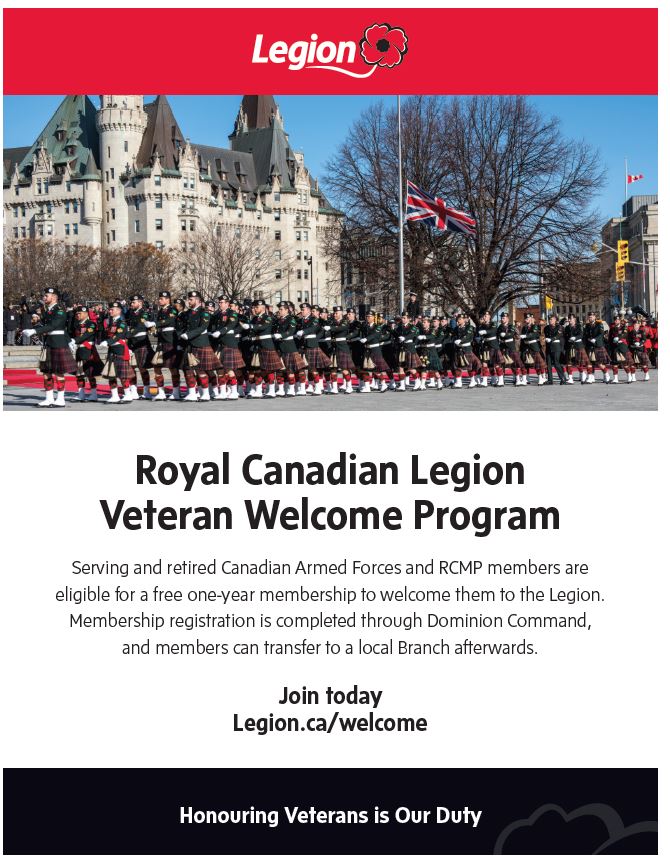 All Serving Military or Retired Veterans and RCMP are welcome to join "Free" for a year.. Explore the benefits, services & the camaraderie the Legion has to offer… at "No Cost".. "Click On" Button Below to Start…
---
Branch Members are more than Welcome to put their business cards on the Community bulletin board in the legion for everyone to see.
---
---